Like all aviation fans, i was surprised to read that Air India made any profit last year especially the dire condition that airlines run on. Air India is one true example of how Airline is spoiled and can not be controlled due to unparralled beauracracy having controlling stakes in India. They use taxpayer's money to save the Airlines. Only terms taxpayers use for the Airlines is horrid, terrible, run by ghosts, inhumane. I have rarely heard good attributes provided to Airlines by any passengers. So I am paying for the Airlines that is not even going to acknowledge me properly.
I have personally flow Air India many times and have stopped flying them as I get way more benefits and better treatment with other airlines. Only reason I would fly them is that certain city is not catered by another other Airlines except Air India.
I further realized that Air India points mean nothing and it should rather be credited to any other Star Alliance carrier. I prefer Singapore Airlines Krisflyer or Lufthansa.
Rs 42,000 crores is a lot of money which could have rather been used to supply electricity over 100 villages for 3 years. Instead, they are being scourged by Airlines which makes no Indian taxpayer proud.
As per Firstpost

Since the two erstwhile airlines (Air India and Indian Airlines) merged to form the present entity, the measly Rs 105 crore operating profit was the first time in a decade that the word 'profit' was used for Air India in any form. Now even this figure has been called into question, raising doubts about the accounting standards followed by the state-owned carrier. As the airline and the C&AG continue to differ over what 'provisioning' actually means in standard accounting practice, it is interesting to examine the detailed explanations and instances C&AG has given in its report, of Air India's operational blunders during the four years under review.

Remember, the airline was in deep financial trouble when the UPA government, in its infinite wisdom, decided to offer it equity support of a whopping Rs 42,182 crore for a 20-year period till 2031-32. Since the government is this ailing airline's sole owner and taxpayers' money is being spent in such a large amount to keep this white elephant afloat, the C&AG audited the airline's workings for the four years under review. What the auditor found is startling, to say the least. It has now recommended that the equity support to the airline should be reduced – something the government seems to have agreed to – but there is no clarity on the quantum by which the promised funds' infusion will be lessened.
Did Air India lie about profits on purpose?
The CAG has been careful about not alleging the state-owned carrier of willful mis-reportage.
"The airline on a standalone basis made an operating loss of Rs 321.4 crore … We won't say this was due to misreporting but this was due to non-provisioning," CAG Director V Kurien told HT.
'Non provisioning' means the carrier did not make provisions for expenditures such as depreciation and maintenance in its balance sheet.
Air India's balance sheet did not include provisions for payment of liabilities, such as paying employees for unused leaves or payments of outstanding sums to the Airports Authority of India and payment to employees for encashing leave.
According to the report, the contrasting numbers are also due in some part to over-valuation of an Air India property in Delhi.
The national auditor alleged that the mistakes may have been caused due to Air India's failure to heed the instructions and guidelines provided by a state-appointed committee.
The committee had been appointed by the state to look into financial restructuring of the state carrier following sustained losses.
However, the airline has been messing up for a while…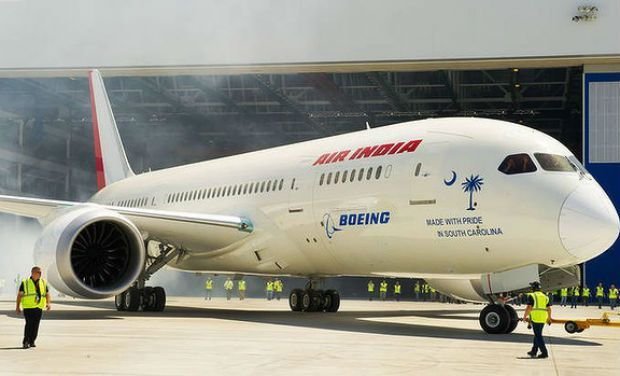 In January this year, Air India was named in a survey by aviation data site FlightStats as the third worst airline in the world, a charge the carrier indignantly denied as being fabricated. Though FlightStats later claimed they did not essentially name AI as the 'third worst in the world', but confirmed that their data was based on efficiency and user satisfaction of airlines in the world.
In 2012, a drowning Air India was kept afloat with a bailout package worth approximately Rs 30,000 crore, to be paid to the carrier over a course of 9 years. The UPA government implemented the bailout package, which was aimed at reviving the fluctuating finances of Air India, and was paid for with taxpayers' funds. As of July 2016, Rs 22,500 crore of that package had already been paid to AI.
In 2013, Air India came under a lot of criticism for selling five of its wide-body Boeing 777-200 long-range aircrafts at prices allegedly much lower than expected market value, to Etihad Airways.
In 2014, the government appointed a committee of experts to look into the cash-strapped carrier and suggest guidelines to reduce losses and achieve its 'full potential'. However, the recent CAG report claims that the guidelines regarding cutting expenditures (includes 5-star lodging expenses for pilots incurred by AI), were ignored.
On 31 March 2015, the total debt owed by Air India was approximately Rs 51,000 crores, and accounted for the largest chunk in the total debt pile of Indian airlines. The debt was reportedly brought down to Rs 46,000 in March 2016 after the supposed operational profits, Economic Times reported.
According to this May 2016 report, Air India's losses stood at Rs 5490.16 crore, Rs 6279.6 crores and Rs 5859.91 crores for the years 2012-13, 2013-14 and 2014-15 respectively. (Data provided by Airline to Parliament)
Air India has also held its spot as the leader in terms of customer complaints, with 32,518 complaints from passengers about issues like delays in flight, cancellations and delayed boarding in the domestic sector. (DGCA data for March 2016)
Per this report, the USA operations of Air India brought in a cumulative loss of INR 6,685 Crores in one year itself (April 2015 to March 2016), which is about a billion dollars of losses right there!

Air India's Ahmedabad – Mumbai – Newark flight (AI191) brought in a cumulative loss of INR 2,411.46 crores (roughly US Dollar 360 million). This is the deficit the flight incurred in not meeting its total costs.
The Delhi – San Francisco flight, which was launched 3 times weekly in December 2015, made a loss of 43.74 crores within the first three months of operations. (roughly US Dollar 6 million)

Per another old report from the Hindustan Times,

On the flights to Australia, served by the Boeing 787, the airline lost over INR 300 Crores (USD 45 million)
On the flights to Rome/Milan, the airline lost INR 150 Crores during the first ten months of 2014-15 (USD 22 million)
On the Ahmedabad-Mumbai-Newark route, the airline lost more than INR 430 Crores in a single year (USD 65 million). The INR 2,411 Crores loss is a cumulative loss.
The Amritsar – Delhi – Birmingham route has made a loss of INR 120 crores (USD 18 million)

What do you feel Indian government should do with Air India?