Initially, DGCA issued different guideline in view of CoronaVirus for social distancing. However, later decided that they didn't want that risk either and have decided to shut down Indian skies for any possible flight.
There will be no flights as of time posting till 14, April 2020. This date might get extended depending on the circumstances.
All the airlines in India are going to withdraw all domestic flights between March 25 onwards, due to the CoVid19 it seems. The new notification simply reads,
The operations of domestic schedule commercial airlines shall cease with effect from the mid-night, that is 23.59 hours IST on 24/3/2020.

Airlines have to plan operations so as to land at their destination before 2359 hours on 24/3/2020.
This restriction does not apply to cargo flights. The circular issued by MoCA states that the restriction will be valid till March 31, 2020, 2359 hours.
There have been multiple news about Airline Crew facing issues with Vigilantes. Mostly International Flight Attendents.
This is Official Press release from Air India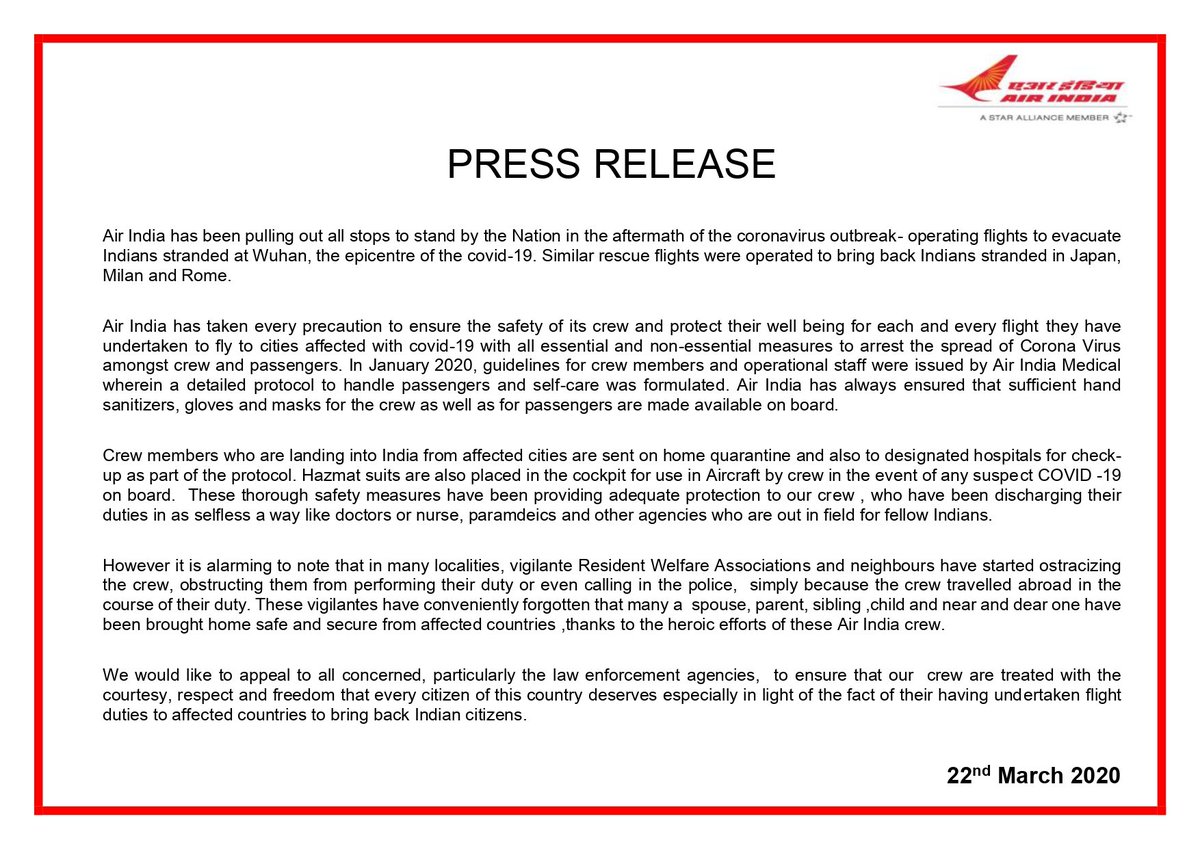 Air India has been operating rescue flights
Like many airlines, Air India has been operating all kinds of evacuation flights to get Indian nationals out of foreign countries — they've operated such flights to Wuhan, Milan, Rome, and more.
The airline says that they've taken every precaution with these flights, including gloves masks, hand sanitizer, and more.
Furthermore, those crews that operated these flights are sent home to self quarantine, and are also sent to hospitals for check-ups as part of the standard protocol.
While Indigo has written this press release
And IndiGo's press statement reads:
As per the government advisory, aviation is an essential service and our colleagues in IndiGo are supporting passengers who have to travel during these days. We have taken every possible precaution for our crew to be protected from infection during their duties. We have adequate protocols for self-quarantine in place in case its required. We are in line with respect to the DGCA guidelines and all advisories/guidelines issued, and these are being followed rigorously.

However, there are some instances when our employees have been ostracized from their communities as a result of their line of duty and travel history. The nation gave a standing ovation to the heroes for their fight against this pandemic on March 22. Our operational crew, in all areas, play an equally important role to keep vital services intact. Our colleagues have been working selflessly to serve the country at this critical juncture. Our employees have been the front-runners in bringing our citizens back to the country and enabling them to reach their hometowns even during restricted movements.

Please support our operating colleagues in such a difficult time.
Bottom line
I have a hard time even imagining how inhuman some people are being. Instead of letting people do their work so that others can lead safe life but rather being obstrutive so that those people would never want to help again. We are sending extremely wrong message to Aviation Crews that they shouldn't even try to help us. Especially when Airlines are doing everything and are following all normal protocols and are having their employees quarantine. The last thing we need as society is to discourage people who we trust to protect us.