On 19th March, Prime Minister of India announced that all Inernational aviation will cease operations till 31st March. They would be no traffic coming from outside. The situation has turned quite dire thanks to CoronaVirus
Prime Minister also suggested Janta Curfew on 22nd March – hence Go Air won't operate any flights while Indigo will operate 60% capacity whereas, Vistara and SpiceJet haven't declared their numbers.
All Indian carriers including Vistara, Air India, Indigo, Go Air and SpiceJet will stop flying to international destinations till April 1. The date might get extended soon.
Go Air innovative Cancellation policy
Go Air hasn't been able to cope up with cancellation requests they are getting. Hence they invented something totally new.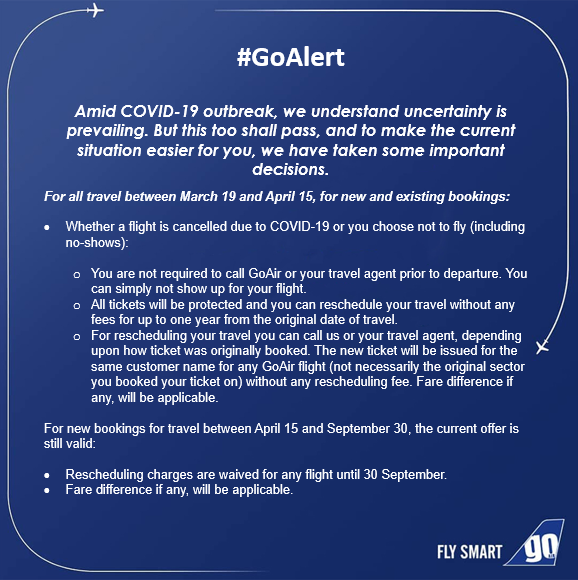 You can then use the credit from the existing PNR and you can fly anytime during the next year, on any sector. The only catch, the ticket has to be still issued in the name of the same person as before, and if there is any fare difference, you will have to pay that. You can redeem your PNR on any date between April 15, 2020, and April 15, 2021.
Indigo launches new Fare Type
Indigo new fare is called Flexi Plus Fare
As per Indigo, they are offering Free Meal, Free Seat selection, No change fee and lower cancellation fee with this fare.